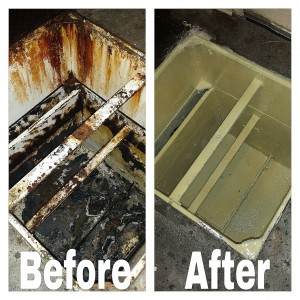 Are you a restaurant owner with a broken grease trap?
Now you can have professional grease trap repair without shutting down your business from loud jack-hammering and digging.
Our method will pass any inspection and save your business money and time! Using high-grade fiber and industrial epoxy, our patented process will form a "box within a box", eliminating the cost to replace with a new one.
The REAL Grease Trap Repair Solution!
Line the inside of your grease trap rather than replacing it!
We are one of the very few contractors in the entire country that will actually repair your grease trap with an epoxy lining process!  Contact us today to learn how we can help you by repairing your grease trap quicker and for less cost!
How it Works:
You can call us or fill out our contact form and schedule an appointment.
Schedule your grease trap to be pumped before we arrive.
Our certified team will stop by your restaurant at your earliest convenience and give a complete diagnostic and provide the cost for repair. We can have your grease trap repaired the same day of the diagnostic appointment or we can schedule for a later date.  A picture of the damaged grease trap (must be shown pumped) would eliminate this appointment.
Our team will measure your grease trap and repair it by using our high grade fiber and industrial epoxy. The entire process will be completed in as little as as hour.
 3 hour cure time. Finished!
Benefits:
Lifetime warranty included
Safe for drinkable water and environment (NSF 14 & 61 Approved)
Pass inspections from safety inspectors
Quiet and fast process, stay open for business during repairs
Seals holes, cracks, and corrosion